how to create a quick animated graphic in photoshop
---
Creating GIF is super simple for some and complicated for others. With tons of apps out there that will easily create one for you, it's nice to know how to create one for yourself from scratch.
There is a variety of different animated GIFs that are created from simple to more complex where you'll need to go into either Adobe Premiere or Animate. Today, I'll be sharing with you how to create a simple one using Photoshop that you can share on your social media accounts.
The first thing you'll need access to Adobe Photoshop, if you don't you can download a FREE 30-day trial here. You can also get Photoshop + Lightroom for just $10/a month. Before we get into the tutorial you'll need to decide what size and what social media account you'll like this for.
I'm going to show you how to create this animated gif you see below in Photoshop. This will take you less than 15 mins to complete depending on your experience level.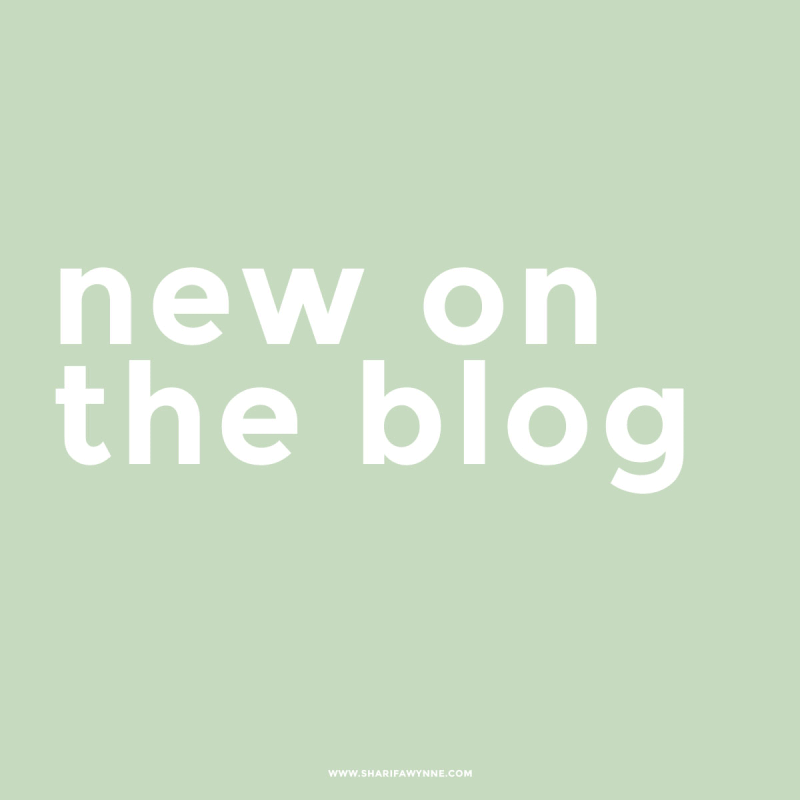 STEP ONE >> SET UP YOUR DOCUMENT
Open up photoshop and set up your new file, give it a title and add the size of the document. I'll be using 1200 x 1200 pixels. If you're using Photoshop CC you can check Artboards if you plan to create more than one. For the purpose of this tutorial, I will not be using the Artboards feature.
STEP TWO >> CREATE YOUR GRAPHICS
There will be a total of 4 graphics at the end of this section. As you see from above it's going to be a very simple GIF, the only text will be 'new on the blog' along with the website URL. You have 2 ways of doing this step.
Option 1: Create the background and text colors and export as you go. Meaning after you create the first graphic you will export it to your folder and continue working on the other 3.
Option 2: Create a folder for each design individually. You'll have a different file for each of the designs that will be included in the animation. This is easier if you're doing a more complicated animation or if you're using CC artboards.
STEP THREE >> IMPORT YOUR NEW FILES INTO A NEW FILE
Once you've created the graphics it's now time to import them into a new file all on a different layer. The easiest way to do is to batch import to do this you're going to head to FILE > SCRIPTS > LOAD FILES INTO STACK. You'll then see a new pop-up window in which you'll select browse and load the newly created graphics then select ok. A new file will then open up and all the graphics will be on a separate layer in this document.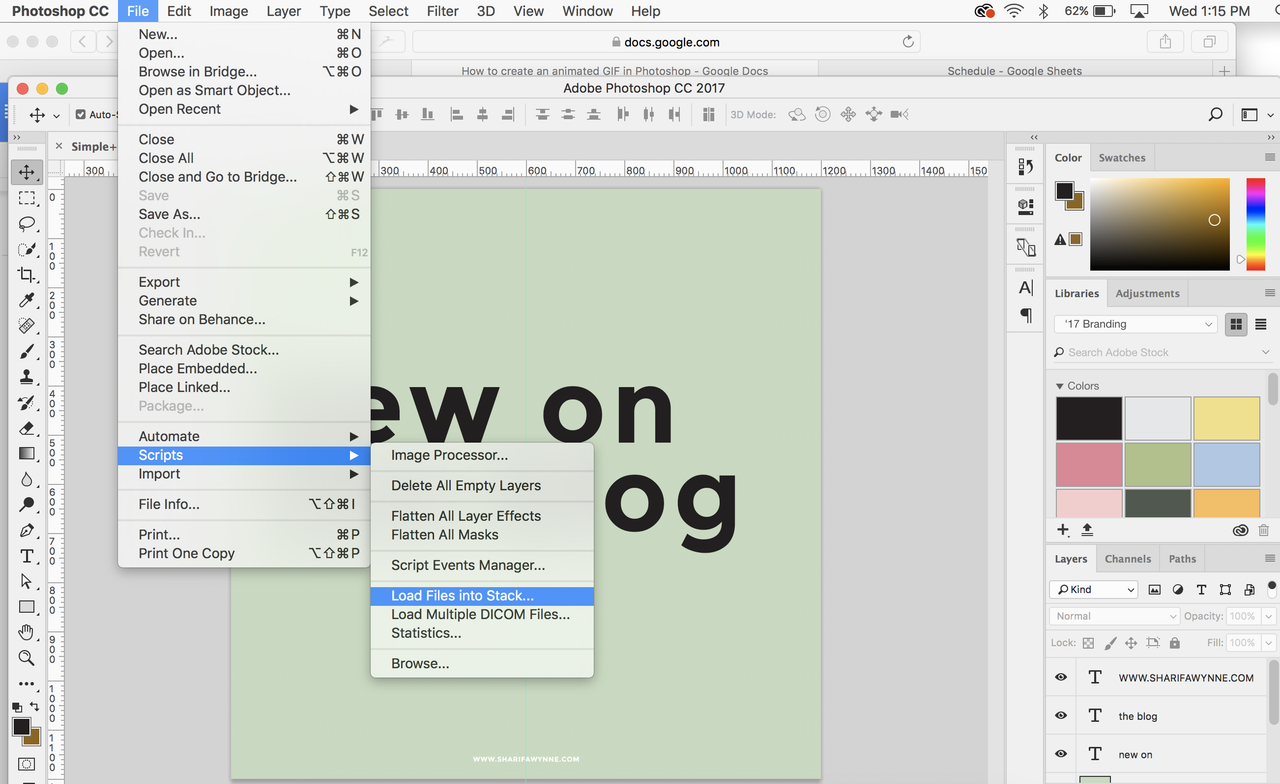 STEP FOUR >> TIME TO CREATE THE ANIMATION
You should now have 4 different layers in your new document. You can go ahead and save it now to not lose anything. Head to WINDOW >> TIMELINE. You will get a new screen at the bottom then you'll select Create Frame Animation then click on the 3 lines to the right and select make frames from layers. You should now see all 4 of your layers in the bottom area.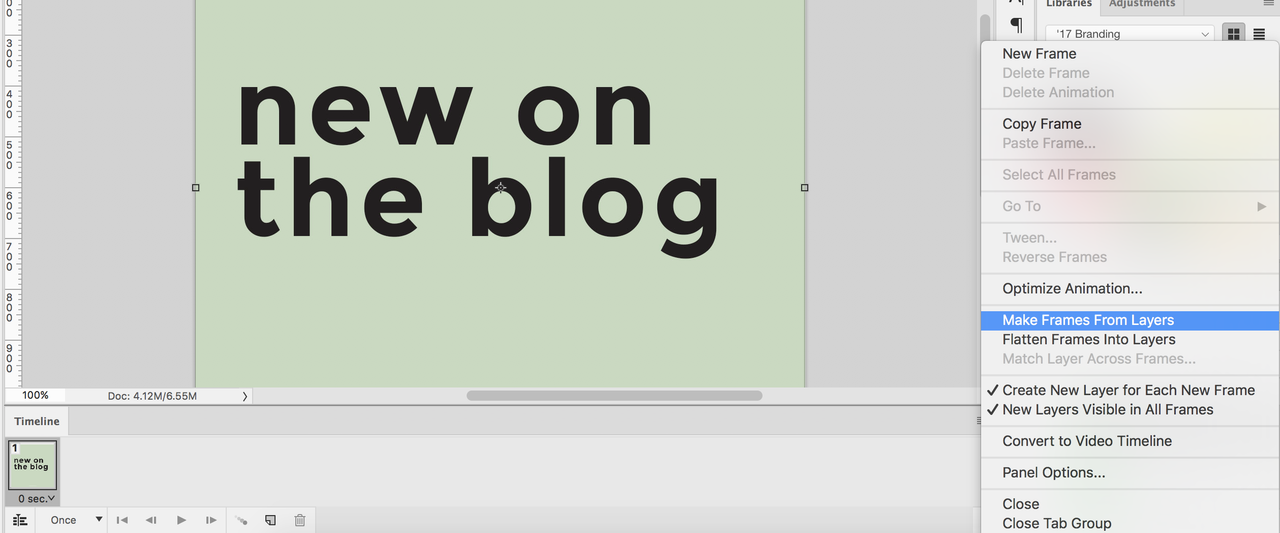 Position how you'll like the images to appear in the animation and then select how long you'll like each to be. You set up should like the image below, I added 1 sec to each design but you can add how long you'd like to have it on for.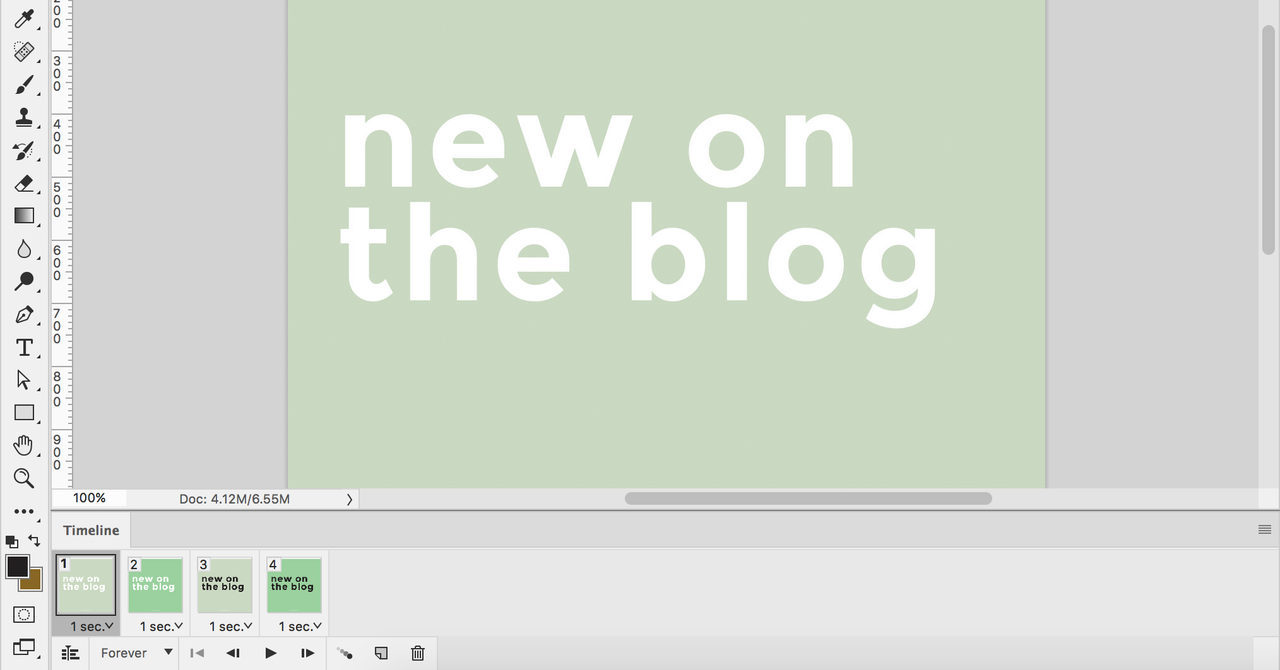 STEP FIVE >> EXPORT FILE
We're now going to export the file as a GIF, to do this you're going to go to FILE > EXPORT > SAVE FOR WEB. You'll then select GIF from the drop-down menu to the top. You can play your GIF again to make sure it appears how you'd like and then save file.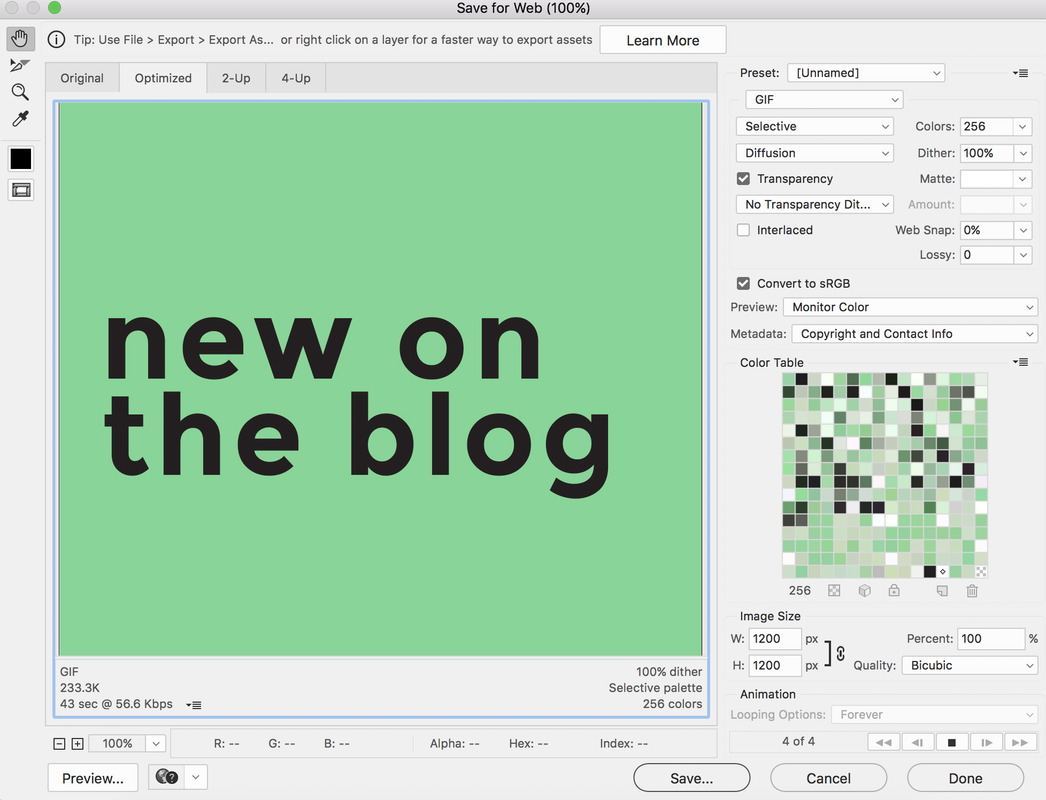 STEP SIX >> CONVERT TO MP4
Your GIF is now created but now you'll have to get it onto Instagram or any other social network. If you're using Twitter, you can go ahead and upload your GIF into your scheduling site. You can't directly post a GIF to Instagram so you'll have to convert it to an mp4 and then post. I use Convertio to get this step complete.
Upload your video to the site wait for it to convert and then download once complete. If you're an apple user you can airdrop that video to your phone or you can upload to your scheduling site.
Until Next Time.